Halbach Arrays
Halbach Arrays


What are Halbach arrays? Why would you want to use one? In this article, we explore just a few of the interesting ways to create and use these unique magnet configurations.
A Halbach array is a special arrangement of permanent magnets that makes the magnetic field on one side of the array stronger, while canceling the field to near zero on the other side. This is very different from the magnetic field around a single magnet. With a single magnet, you have an equal strength magnetic field on either side of the magnet, as shown at right.
The single magnet is shown here as 5 cubes like the Halbach array, but with all of the north poles pointing up. Magnetically, this is the same as a single long magnet.
The effect was initially discovered by John C. Mallinson in 1973, and these "one-sided flux" structures were initially described by him as a curiosity (IEEE paper link). In the 1980s, physicist Klaus Halbach independently invented the Halbach array to focus particle beams, electrons and lasers.
Why would you want one? Where are they actually used?
From Wikipedia: Although one-sided flux distributions may seem somewhat abstract, they have a surprising number of applications ranging from the refrigerator magnet to industrial applications such as the brushless motor and magnetic coupling. Klaus Halbach originally invented them to use as wiggler magnets used in particle accelerators and free electron lasers.
Halbach arrays are also a key component of the Inductrack maglev train system wherein the Halbach arrays repel loops of wire that form the track after the train has been accelerated to speed, lifting the train.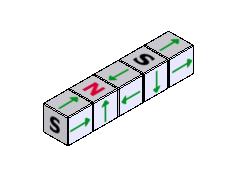 Build an example – straight Halbach array
Here we show the construction of a straight Halbach array using our common magnets. These magnets are ½" cubes with a hole through the middle to allow a long threaded rod to hold them together.


---